Discover more from More Perfect Union
Media that builds power for working people.
Over 3,000 subscribers
Stellantis Hires Notorious Firm to Break UAW Strike
The automaker has sent private, ex-military security guards from a notorious strikebreaking firm to at least 5 UAW strike locations
By Katie Nixdorf
Stellantis, one of the Big Three automakers currently negotiating with the United Auto Workers over a new contract, sent private security guards from the strikebreaking firm Huffmaster to at least five of its Parts Distributions Centers (PDCs). These guards are the company's attempt to undermine striking workers by ushering temporary or salaried workers across the picket line and ensuring delivery trucks can enter and exit the plant. 
Huffmaster is notorious for breaking strikes at school districts, hospitals, and corporations like Mondelez, Pepsi, and General Motors. It offers companies everything from temporary workers to private security guards in order to "ensure continued operations during a work stoppage." 
Although Huffmaster brands its approach as "high visibility, low confrontation," its security employees have been accused of assault on multiple occasions. At least three lawsuits alleging assaults have been filed in court, including charges of a female worker being punched in the mouth in Indiana and others being struck by a van driven by a Huffmaster guard. 
Huffmaster security personnel have been deployed to Stellantis PDCs in at least three states. "It's just crazy," said Larry Wynn, President of UAW local 1248 in Warren, Michigan, where roughly a dozen Huffmaster guards have been on site since the second week of the strike. "It's a waste of money. It's a waste of time."
The decision to deploy security guards at Stellantis' Ontario, California, location came after picketers blocked delivery trucks from entering the facility, according to internal communications obtained by More Perfect Union. 
Roughly 15 Huffmaster security guards arrived on October 13th. They were wearing all black uniforms with knee pads and elbow pads, according to Henry Salazar, a UAW Region 6 organizer, and were seen escorting management and salaried workers into the plant.
"They did it all over the country, which is a huge slap in the face," said Bill Farrell, a Health and Safety Representative at Stellantis' Boston PDC. "It felt like they were trying to intimidate us. There was no reason for them to be there."  
Huffmaster boasts in marketing materials that its "uniformed strike security officers" are "predominantly ex-military," and are trained by the company to use "defensive formations" to prevent picketers from blocking access to the plant. 
"There's no purpose for that other than to be intimidating," said Salazar. "We're 20 feet from where they're at and the cars are coming and going."
When Huffmaster guards first showed up at the site in Ontario, California, Salazar said they joined workers who were walking in a circular picket line. But instead of walking with workers, they walked backwards, with cameras pointed towards the picketers. 
"They're probably looking for one human that gets fired up to make a mistake," said Farrell.  
If workers react violently, it could be cause for an injunction against the picket line — and Huffmaster knows this. Huffmaster markets the purpose of its video surveillance as being "to support any restraining orders, injunctions, or NLRB hearings related to the strike." (This was advertised on their website as recently as February 2023, but has since been removed.) 
"That's their whole purpose, to get injunctions," said Salazar.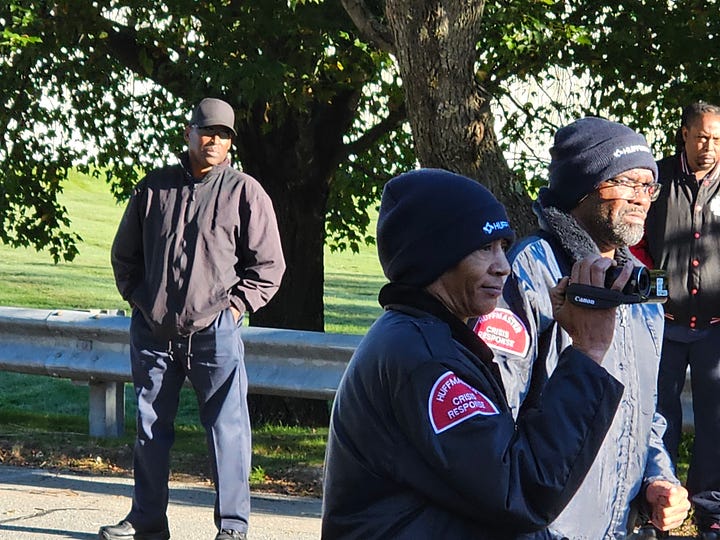 The UAW strike isn't the first time Huffmaster has been accused of provoking picketing workers. 
During a 2021 strike at Catholic Health Mercy Hospital in Buffalo, New York, Huffmaster was served a cease and desist letter from the New York Attorney General for "illegally interfering with the demonstrating picketers' right to protest" and operating in the state without proper licenses.  
Huffmaster guards have also been involved in violent altercations on the picket line. A Teamster filed a lawsuit against Huffmaster in 2021, alleging assault and battery by a guard working for Huffmaster at the strike at the Nabisco bakery in Northeast Portland.
A video from the Nabisco strike shows a man in a Huffmaster jacket repeatedly punching a man in a hoodie and shoving another person. In a case study about the Nabisco strike, Huffmaster says its "security personnel managed the situation admirably, particularly in Portland, where heightened unrest was daily." 
Huffmaster did not respond to our request for comment. 
Despite these allegations, companies like Stellantis continue to use Huffmaster's services — and the services don't come cheap. 
Huffmaster billed an Ohio school district nearly $950,000 for "24-hour patrols, videotaping of pickets and keeping entrances open" during a two-month strike in 2002. Mercy Hospital in Buffalo paid Huffmaster $62,626,022 for "healthcare staffing services," according to the hospital's tax filings for 2021. 
"I think it's pathetic," said Salazar. "It shows they truly don't care about the workers."
"They would rather spend the money on these things than putting the money in the contract," said Farrell.   
The UAW is in the fifth week of its nationwide "Stand Up" strike, targeting specific facilities rather than all locations at once. Roughly 5,600 workers at all GM and Stellantis PDCs have been on strike since September 22nd. 
Huffmaster guards are part of Stellantis' broader effort to undermine the strike. The company mobilized to send salaried members of its company diversity groups to keep operations moving at parts centers, The Intercept first reported. Now, Huffmaster guards ensure these salaried employees can cross picket lines to enter striking plants.
"More dirty tricks from the Big Three, who aren't afraid to put their own workers in danger, spy on our picket lines, and do whatever they can to make an extra buck," said UAW President Shawn Fain. "Shame on Stellantis for trying to break our strike instead of sitting down and bargaining a fair deal."
Two buses full of salaried workers came to the PDC in Centerline, Michigan on October 19th, where Huffmaster guards helped them access the plant, according to Wynn. Despite the company's effort to keep operations going, "they're not making a dent in the work that we do," he said. 
"We are our army," Wynn said. "We will have people manning these gates 27 hours a day, 7 days a week, and we will continue to be here."